incl. mattress, cradle, lid & loden cover
Set baby bed - linoleum
The BENNI'S NEST baby bed set contains everything for a safe journey to the land of dreams: our bed made of pine wood, a matching mattress, click-in runners with which the baby bed can easily be turned into a cradle, as well as accessories for further use of BENNI'S NEST as soon as the baby outgrows it. On request, the baby bed included in the set is also available in selected "colors": made of environmentally friendly, easy-care and 100% toxin-free linoleum. Our beds are manufactured without metal or plastic parts and are delivered in one piece, so no further assembly is necessary.
The set includes:
Baby bed made of pine wood (40 x 80 cm), "Linoleum" natural, evening blue, sand,

Sage

(Material: 100% natural linoleum)

Baby bed mattress natural (40 x 80 cm)
Lid (for use as a bench, toy box, etc.), incl. Loden cover, handmade
Weighing runners, color natural
Product details baby bed
Suitable for newborns up to approx. 6 months
Size: 40 x 80 cm
Weight: approx. 3.5kg

Material "Color": 100% natural linoleum

TÜV tested, metal and plastic free
Very versatile
Assembly and delivery: The baby bed is delivered in one piece, shipping costs are included in the price
Return: The bed can be returned easily and easily within 30 days
Product details baby bed mattress
Suitable for newborns up to approx. 6 months
Dimensions: 40 x 80 cm
Core made of latexed coconut, covered with breathable sheep's wool fleece (KBA)
Breathable and antiseptic
"Anti-crawly animal": keeps bacteria and mites away
Cover: removable, washable up to 40°, suitable for tumble drying, 100% organic cotton (KBA)
selling price
€955,00
Regular price
€1.025,00
including VAT
customer testimonials
Our Anna loves her sleeping place, such a cozy little nest and this wonderful scent! During the day she is always in the middle of family events with her 3 siblings and is still protected and in peace. We would buy this fine stone pine bed again and again... and the bed is really great as a cradle
I tried the WiesenTopper Mint and I am absolutely thrilled! The fresh scent of mint and lemon balm helped me sleep soundly in no time. The mattress topper feels very soft and comfortable and I was able to adjust to it with ease.
The mini bed is the perfect size for my daughter (3 years old) and she sleeps very well. I also really appreciate that the bed is made of pine wood, which makes for a nice scent.
I bought the new mini bed and already love it, even though it's not "in use" yet! The high-quality material and the precise workmanship can be seen, smelled and felt. I particularly appreciated the transparent communication and the excellent, personal customer service of the manufacturer. I give it the highest score! Dear Mr. Proell, I wish you and your family all the best and thank you very much!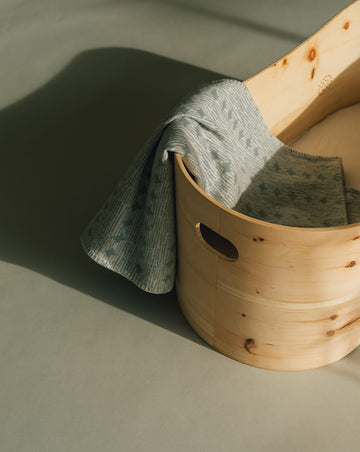 More info
The BENNI`S NEST baby bed set helps parents to create the ideal sleeping environment for their baby: the bed made of pine wood exudes a pleasant scent and comes in a set with the matching mattress. The click-in runners transform the baby bed into a gently rocking cradle in no time at all. As soon as the baby has outgrown its cherished nest, it can easily be transformed into a toy box or bench thanks to high-quality accessories.
Pine bed for babies
The first phase of life is particularly formative for a baby. A good night's sleep gives little people the foundation they need to grow in a relaxed manner and develop as best they can. In BENNI'S NEST, babies slumber softly and snugly, like on a cloud. Our handcrafted Swiss stone pine baby beds are 100% free of harmful substances, offer optimal air circulation, are TÜV-tested and only measure up to the highest quality standards. Thanks to the timeless design, the beds fit beautifully into any living situation and help to give children a healthy, deep sleep in a cozy environment.
To pretend we're from deep and sound sleep
animated is an understatement.