Give gentle sleep
BENNI'S NEST Voucher (Online)
Whether for a handmade pine bed or cuddly sleeping accessories: With BENNI'S NEST vouchers, you give parents soothing, deep sleep for their child as a gift.
Give them as loving attention to the birth, to the baby party or to give new parents a special treat.

You can get our practical vouchers from 20-500€ directly in the online shop.
selling price
€20,00
Regular price
including VAT
customer testimonials
Our Anna loves her sleeping place, such a cozy little nest and this wonderful scent! During the day she is always in the middle of family events with her 3 siblings and is still protected and in peace. We would buy this fine stone pine bed again and again... and the bed is really great as a cradle
I tried the WiesenTopper Mint and I am absolutely thrilled! The fresh scent of mint and lemon balm helped me sleep soundly in no time. The mattress topper feels very soft and comfortable and I was able to adjust to it with ease.
The mini bed is the perfect size for my daughter (3 years old) and she sleeps very well. I also really appreciate that the bed is made of pine wood, which makes for a nice scent.
I bought the new mini bed and already love it, even though it's not "in use" yet! The high-quality material and the precise workmanship can be seen, smelled and felt. I particularly appreciated the transparent communication and the excellent, personal customer service of the manufacturer. I give it the highest score! Dear Mr. Proell, I wish you and your family all the best and thank you very much!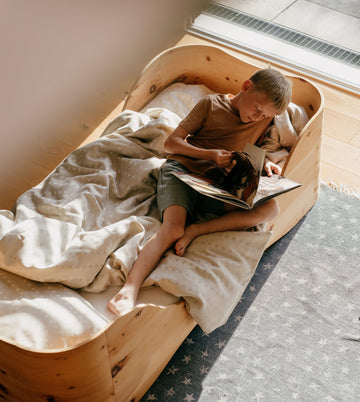 Die perfekte Erstausstattung für Babys
Was schenkt man zur Geburt?
Taufe, Babyparty, Geburt: Die perfekten Geschenke für frischgebackene Eltern
Ein neues Leben ist einer der schönsten Gründe zum Feiern – und zum Schenken. Mit einem Gutschein von BENNI'S NEST schenkst du jungen Mamas und Papas tiefen und festen Schlummer für ihren kleinen Liebling oder entspannten Elternschlaf für sich selbst. Denn mit praktischen und schönen BENNI'S NEST Geschenkgutscheinen können junge Eltern sich das ideale Geschenk nach ihren eigenen Bedürfnissen selbst aussuchen: ob kuschelweiche Erstausstattung fürs Baby, geborgenes Zirbenholz Babybett oder aromatischer WiesenTopper® fürs Elternbett. Mit einem Geschenkgutschein von BENNI'S NEST bekommen junge Eltern und kleine Träumer immer das, was wirklich zählt: tiefen, festen Schlaf.
FAQs
Für welche BENNI'S NEST Produkte kann der Gutschein eingelöst werden?

BENNI'S NEST Geschenkgutscheine können für unser gesamtes Produktsortiment eingelöst werden: von unseren Zirbenbetten und Naturmatratzen für Babys und Kinder, über streichelzarte Bettwäsche und kuscheliges Schlafzubehör, bis hin zu aromatischen WiesenToppern® für Erwachsene.

Wie lange sind BENNI'S NEST Gutscheine gültig?

BENNI'S NEST Wertgutscheine sind ab dem Kauf unbefristet gültig. Wir empfehlen aber, sie nach Erhalt möglichst bald einzulösen – denn wenn es um tiefen und festen Schlaf geht, zählt jede Nacht.

In welchem Wert kann ich BENNI'S NEST Gutscheine kaufen?

BENNI'S NEST Gutscheine sind im Wert von 20€, 50€, 100€, 200€ und 500€ erhältlich. So bist du beim Schenken ganz flexibel: von der kleinen, liebevollen Geste bis hin zum Geschenk zu einem wichtigen Anlass.

Kann ich BENNI'S NEST Gutscheine verschenken?

Ja, unsere Gutscheine sind übertragbar und eignen sich wunderbar als Geschenk: ob zur Geburt, Babyparty, Taufe, Schulbeginn, zum Geburtstag oder als klassisches Weihnachtsgeschenk. Und weil tiefer und fester Schlaf in jedem Alter gut tut, kann man mit BENNI'S NEST Gutscheinen wirklich jedem eine Freude machen: Babys, Kindern und Erwachsenen.
To pretend we're from deep and sound sleep
animated is an understatement.